Methods
Collecting the data (2011-2013)
SAMBAH will survey the Baltic Sea harbour porpoise by using Static Acoustic Monitoring (SAM) devices called C-PODs. The C-PODs detect and log porpoise sonar click activities inside a radius of about 100 m (you can read more about how C-PODs work here). Approximately 300 C-PODs will be deployed between May 2011 and May 2013, and their logged clicks will be used to perform a density analysis and model the presence of harbour porpoise in the Baltic region (see Analyzing the data below).
​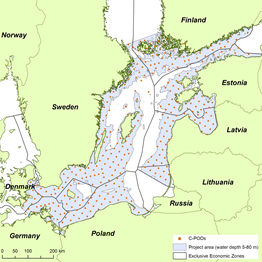 The C-PODs will be distributed in a study area that stretches from the Darss and Limhamn ridges in the southwest to the northern border of the Åland archipelago in the north, at depths between 5 and 80 m (area marked in blue on map).This area includes waters of Sweden, Denmark, Germany, Poland, Lithuania, Latvia, Estonia and Finland. During the two year period, the C-PODs will be serviced every three months and data will be stored in a custom made database.
Download a pdf with C-POD locations here!
​
Auxiliary data also necessary for the density analysis, such as average click rate and detection probabilities, will be obtained by:
1) tagging harbour porpoises that are opportunistically captured in Danish pound nets; 2) acoustic/visual trials; and 3) calibration tests. A complementary literature review will also be performed.
​
Analyzing the data (2013-2014)
Density analysis
Data collected by the C-PODs combined with the auxiliary data will be used to generate local densities of the Baltic harbour porpoise. These local densities can then be used to calculate average density and abundance for the whole region and countries individually. Multiple analytical methods will be used to ensure reliable results. Currently two main types of point transect methods are being considered: 1) cue counting method using the detection of individual clicks; and 2) snapshot method using either the detection of individual animals or of groups of animals within a set time window.
​
Habitat modeling
The density estimates will be used to spatially model Baltic harbour porpoise presence, using generalized additive modeling (GAM), and generalized additive mixed modeling (GAMM). The main goal is to produce current distribution maps and to investigate if any habitat preferences exist. Various environmental factors (e.g. depth, bottom slope, salinity, fish distribution) will be taken into consideration and possible hotspots will be determined. By combining these results with available data on anthropogenic activities (e.g. fishing, tourism, shipping) it will be possible to pinpoint any areas with higher risk of conflict.
​
​